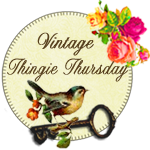 I'm joining in on Vintage Thingie Thursday this week! If you want to play, visit the
Colorado Lady
and link up with others showing off their Vintage Thingies! Come on and join in. It's fun!
When I was in Fourth grade, I joined 4-H. I must credit this wonderful organization for the encouragement I had to sew, cook and do and learn about other hobbies! My parents, especially my mom, spent tons of time making sure I did my 4-H record book and participated in things like Dress Revue and the bread contest, helping with the talent show and, gathering up all our entries for the county fair! Dad chose a lamb to show from our flock and helped me exercise it and feed it at home, then wash and groom it for show. I'll bet there's plenty of country kids that will give credit to organizations like 4-H, FFA and FHA for helping them choose their current careers.
My mom was (and still is!) and awesome seamstress and cook and because of her and my grandma, I always won awards in these areas. You can read about my adventures showing sheep
here
and about the wonderful demonstrations given with my friends
here
. Really, I know I've sadly neglected my children in many ways, but as I reflect on my time in 4-H, I realize they were especially deprived to miss out on public speaking, finishing projects to specifications, competing in friendly contests and the camaraderie of individuals whom you didn't see in daily life, but ran into frequently in 4-H contests. And that's no joke!
The other pins and charms represent high school accomplishments--Honor Society, Beta Club, FHA, Girls State, and my Senior key (I just realized I cut the 'key' portion off, oh well, this was the best picture!).
I love these pins because they bring back many memories. And they are definitely symbols of a bygone era. My girls have entered items in our country fair and do you know what the ribbon is now? A sticker! How I wish I had kept all those ribbons from 4-H and the fair. Who knew they would soon be a relic of the past!
Now, go on, visit the others who are linked up with Vintage Thingie Thursday!